Welcome to the Vesper Family Webpage!
Last updated 07/30/05
(click on thumbnails to enlarge photos)
Dave returned from Afghanistan on July 28, 2005 after serving as an embedded trainer for a year. We only had to wait three hours in an equipment hangar with 250 other families for them to arrive. We are so excited to have him back and so proud of his service. More pictures from his homecoming can be found here.
Our Three Musketeers: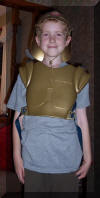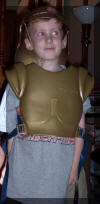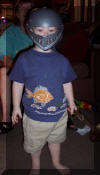 Sirs Benjamin, Evan and Daniel are always on the lookout around here.
Dave was called to active duty with the National Guard in June 2004. He was embedded in the Afghan National Army, and helped train their troops. He shipped out to Afghanistan on August 6th, 2004. I set up the following page for everyone to keep up with him while he was gone.
Evan had to have his second detethering surgery for his spinal cord on June 7th. He came through it with flying colors and is now quickly recovering. He's back to harassing his brothers and generally being obnoxious. Here are some of the photos from our stay in the hospital and his recovery at home.
Daniel's First Haircut: Yes, it took him 20 months to grow enough hair to need a haircut. On April 4th, we took him to "Cookie Cutters" where he got to sit in a fire truck and watch an Elmo video while his hair was being cut. His brothers gave him a blue gumball just before he got in the chair which is why his lips are blue.


On Saturday, March 12, 2005 the Boy Scouts of Pack 106 held their Pinewood Derby. Benjamin came in third place in the Bears (out of 17) and Evan placed second in the other/tag along category (out of three). Benjamin pretty much designed and made his car himself with minimal adult help. Evan used a kit we bought at Hobby Lobby.

We had a wonderful visit over Christmas break with our friends Laura and Galen and their four kids, Robert (8), Henry (6), Thomas and Maggie (18 month old twins). The weather was not typical southern California weather. It was in the 50s and 60s every day and many days were rainy and miserable. We had fun anyway.
Daniel the Pilgrim! Happy Thanksgiving!
The latest school photos (taken in October and November, 2004)


Benjamin is in 3rd grade and Evan is in his 2nd year of preschool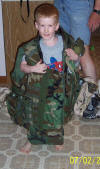 The boys wearing Dad's battle armor (which weighs more than Evan!)

What a gorgeous boy!
Daniel's 6 month photos.
We had professional photos taken in November 2003.

The requisite family photo from the November pictures. Daniel had had enough by this point.
To see the family photos from June 2002, go here
To see our older pictures, check out the archive.
Here are some pictures of our Great Grandma Irene's 100th birthday party.
Here are our cousins, Alyssa, Abby and Alivia
Here are our cousins, James and Hannah
Here are our grandparents, Grandma Karen, Grandma Pat and Grandpa Nick and Grandma Neen.
We are lucky enough to have three great-grandmas!
Here is Lara's Page